Welcome to the "Sparkly Things Distract Me Blog Hop" hosted by Janice Anello @ Cricut Confessions. If you just came from Jaimies Blog:
Glitter, Stamps and Paper, Oh My
, then you are on the right track. If you have just popped in for a visit and want to join this hop from the beginning please start with
Cricut Confessions
.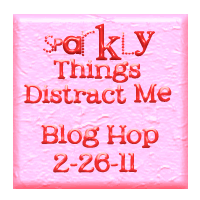 For my sparkly project, I decided to do the following scrapbook layout. I loved how the black helped my glitter and glitz pop.
Layout Recipe:
DCWV black cardstock
Sheet Music paper printed from a free digi from
Far Far Hill
45 Record svg freebie from
SVGCuts
(My 9 year old asked me what this was..ha ha)
The Father-Daughter Dance elements are Jolees.
The music notes aroud the photo were an .svg created by me specifically for this layout, inked in silver.
I stitched the decorative ribbon on with my Pixie Plus
I attached the star beading on with a dab of diamond glaze.
Added some stickles on almost everything!! Gotta have some sparkle...right?!
How about a little sparkle of your own? Just become a follower, if you aren't already, and leave me a comment including your email addy so I can get in touch with you. If you do not list a form of contact I will choose another winner. One lucky winner could win a bit of bling for their next super sparkly project.
Here is the line up just in case you need a little help along the way:
Hope you are having a great time on the hop!! See ya' next time.