First today, I want to remind everyone that I will be participating in the "Sparly things Distract Me" blog hop on Feb. 26th. Please hop along with us on this day and get in on some sparkly stuff. I will remind all you fab followers again when we get closer to the hop date.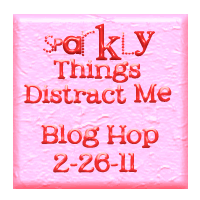 And now, on to the Birthday Bash. It's Day 17 of Karel's 55th Birthday Bash. It is also National Random Act of Kindness Day. There is another fabulous prize to be given away today so head on over to
One by One the Flamingos are Stealing my Sanity
and get in on today's giveaway. Also learn about another Design Team Member!
This is the Liebster (which I believe means dear in german) blog award. I received this award from my friend Karen at
Karen-Kakes-Krafts
. Please pay her a visit. She is a very talented and super sweet lady. Thank you sooo much Karen!
The aim of the Liebster Blog Award is to bring recognition and exposure to small blogs who have less than 300 followers. If you accept the award, you then agree to tag three other small blogs that you would like to recommend to others, then link the award to the person who gave it to you.
I would like to pass this on to the following blogs:
Mistyrose @ Sweet Magnolia Rose
Michelle @ Peanut Butter and Jelly Designs
Jaimie @ Glitter, Stamps and Paper, Oh My